Advanced web design that can give business
More than a simple web design, an Advance web design is user-friendly, understandable to visitors, and relatively low-maintenance. Advanced tools and digital marketing also work smoothly in this.
Along with technological development, it is also future designing so that your website design does not become outdated over time. An advanced type of website designing work is mostly done from the point of view of the profit of its user.
List of elements that primarily make advanced website design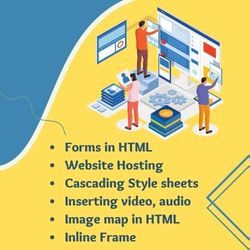 Small but essential elements without which a website cannot be advanced.
1- HTTPs:
Decades back, when the Internet started people were not much aware of this, at that time browsers were compatible with this too. But with the growing internet in 2023, neither browsers support it nor the internet environment.
So earlier this thing which was considered a wasteful expenditure adds to the advancement in today's websites. To avoid internet fraud, SSL has become a compulsory product, in its absence, not secure is written instead of HTTPS Secure, which advises the visitor not to browse the website. Although Google has changed its SSL icon, its quality does not work, but it increases progressively.
2- URL (Uniform Resource Locator):
It's an address of a website page on the search engine. Keeping short means visitors can remember your short & simple URLs or at least they can write it somewhere to follow it later, is it is considered in your web design then you can call in advance.
3- SEO Compatibility:
SEO compatibility at least can ensure that you can scale your website up someday on search engine's guidelines, this is another meaningful advance element in your page design.
4- Use of Google fonts:
Attractive fonts can't replace google fonts. Previously due to this there was a rendering time issue in mobile browsers, see many mobile phones are Android today, so the font conversion time becomes less if in web design these fonts are used.
5- Twitter integration with your website:
Don't underestimate Twitter, however, this has 16th rank on the list of social media platforms, and still you are not integrating this with your website because in some countries this is not much popular as other social media platforms like Instagram & Facebook. You must integrate it. Here are 33 tips to get reach on twitter
See what Neil Patel says,
6- Web Server that handles your web design:
This is too important for any advanced website, a good web server means that gives you security, better space, a time-to-time backup facility, SSD Hosting, SSL & proper management tools. Don't consider saving a little amount over a good server, facilities have it's own charge.
See what Neil Patel says:
Content creation in advance format
The content should be such that the website visitor feels connected, do not fool him, because he must have already checked many websites.
Use the Sprite SEO technique while writing content, in which the vial is kept straight. No one has time to read useless content.
To write your content you must know the problem of the visitor, and what he is searching for. Content is always advanced in advanced website design, these features of advanced content will make you aware.
Direct to the point.
Small sentences.
Small paragraphs.
There must be something to say
Advance web design does not depend only on the technology, or the development language, but on whether your audience can understand your point or not. It incorporates the best of the above technical elements content whenever they are found – an advanced web design.