This blog will help you to make your web designing skills a different level. You will learn that by using which technique in making an advanced website, we can use it to make a good website. You can convert your website into advanced web designing with the help of HTML and CSS.
How many web pages are hosted on a website? As such it does not take much time to make. From these pages, we describe our website. Which niche, product, or service our website belongs to is all found on the pages of our website?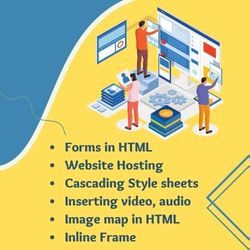 HTTP: HTTP -Hypertext Transfer Protocol- is a protocol used by WWW for user-server contact.
URL (Uniform Resource Locator): It's an address of a website page on the search engine.
Webpage: Text file created with the help of HTML.
Web Browser: A web browser is used to view the information available on the internet and to visit the website. It's software. For example: – Google, Yahoo    
Website: Web pages that contain images, audio, video, and text at the same time. For Example-  www.Cybertoothincorporation.in
Web Server: It is an application that sends the web page of a website over the Internet with the help of the HTTP protocol. For Example Apache, IIS, etc.
Directly Connected- Content plays an important role in a website. Content is the element that helps us to understand the website and which product or service the website is related to. The content describes the website. Therefore, while creating a website, we should always keep in mind what should be the content of the website. As the content is informational, there should not be any copied content; the content should always attract the users towards it so that the users show interest in reading it. Get maximum visits to your website.
Colour Mind Set (tint)- While creating a website, along with the content, it is also important to keep in mind how to use colours in the website. We should use the same colour on the website which users like. For example- if there is a website related to children then we can use colours like pink, sky blue, and yellow. But if a website is professional then we will use colours in it. Similarly, we have to take care of colours while making a website.
Marketing understanding of products that your website presents
We must also have a marketing understanding of our product or service, about that product or service, about which we inform users. So that we can solve all kinds of questions of our users.
Product Can Be New/ Unknown To The Public (video presentation on tutorials)- Whatever products or services we attempt to identify users through on the Website. For new products or services many people don't know, the US can use a presentable video to describe the details of the product or service. Which gives users brief information about the website.
Highlights Of Product- Every product or service should be well highlighted on the website. So that it is easy for the users to understand the products or services. And the users can also get knowledge of the product.
Create Differences From Others- Website designing should always be different from others. So that our website can attract users differently than others. For that, Font, Design, Content, Image, and Video should be taken care of in all the elements all these elements should be different from other's websites.
SEO Standard Website- After designing any website, the most important thing is the SEO of our website. Which can be shown on the high rank on your website search engine page. It is very important to do SEO to show the website on a high rank. There are two ways to save. (1) Organic sleep (2) Paid Which is done with the help of different techniques.
Website loading should always be fast. So that users can easily use our website on phones or desktops. Every web page of the website should run in seconds. For that, you can make a website keeping in mind the font, image, video, etc.
While creating the website, special care is taken with the font. What should be the font and size of the website? Which users can easily understand? Sometimes we have to keep the thin font in some websites and sometimes bold. But Google has its own font on the search engine, as we know by the name of Google font.
Thin fonts use for new products like beg

Bold fonts use for sports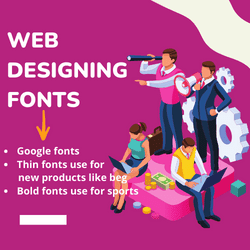 Language of philosophy/ Quotes
Our writing style on the website should always be such that it is in the language of a philosopher. So that it is easy for the users to read the web page. Rather a childish language should be used. Due to this, the user could not read properly. That's why special care should be taken of the language while creating a website.