Content Management System
In today's article, we will discuss about content management system's key features.
Nowadays, the content of the website is heavy, and content-driven websites are in high demand. Although creating a heavy content website is easy the process makes a choice between two popular systems- Static Site Generator and Content Management System.
SSG serves to the user a static website in the form of HTML files, whereas CMS is used to manage web content, allowing multiple contributors to create and publish a website.
Here we show you why you should choose CMS and show the comparison between them.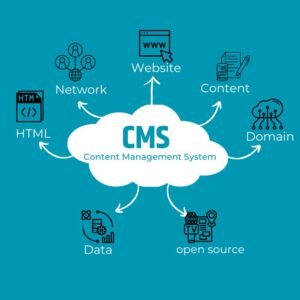 Basic Features of a Content Management System
Content creation
Content storage
Workflow management
Publishing
Content creation: The act of coming up with topic ideas that are appealing to your buyer persona, developing written or visual material around those ideas, and then making that information available to your audience via a blog, video, infographic, or other kinds of formats is known as content production.
Content storage: Information can be stored using content-addressable storage (CAS), also known as content-addressed storage or fixed-content storage, so that it can be accessed based on its content rather than its name or location.
Workflow management: The identification, organization, and coordination of a specified group of tasks that lead to a given result are referred to as workflow management. Workflow management is the process of increasing production, reducing errors, and automating workflows wherever it is practical to do so.
Publishing: Making information, books, music, software, and other items available to the public, whether for a fee or for free, is known as publishing. The phrase has historically been used to describe the production and distribution of printed materials like books, newspapers, and magazines.
Benefits
Collaborative nature.
Allow non-technical people to easily create and manage their own web content.
Reduce its reliance on front-end engineers to make changes to the websites.
We work on websites by taking the reference of basic features of CMS so that you can take the benefit of it. We want to ensure our client's benefits, profit, and satisfaction.
CMSs can also provide many other features:
Themes and Templates: CMS provides different types of themes and templates that can be customized according to the design of the website.
Plugins and Extensions: The CMS can be extended with plugins and extensions that add new features and functionality.
Security: CMS usually have security features to protect the content from unauthorized access
How is
our Company's information management?
5 key areas of information management…
Our developers give you all information about the company's management and give you reliable recommendations for your website. We provide the most user-friendly and flexible solution for your website.
How much
does it cost to work with CMS?
CMS solutions ranges from $150,000 to $400,000 for the overall services package, including custom CMS design, development of custom features, configuration, and other related services.
Every best thing needs high cost. It depends on you that how much you can invest on your website. However, limiting the budget more limited the choices.
What are the
business operations?
We will give our best for your video publishing. We also ensure that the images for the blog are the best and suit your business goals.
Can
you make changes to the website?
Yes, you can make changes to your website. Technical as well as a non-technical person can access the website and can make desirable changes.