Have you heard of Content Marketing before? If yes, you probably know that Content Marketing is considered a powerful tool to increase your customer base using the online technique.
if you are not familiar with the word before, don't worry by reading this article you will understand the whole concept of content marketing and how to build your first content marketing strategy.
Firstly, let's learn the meaning of content marketing. See this mail chimp article 
if you have computer knowledge you can also do it on your own.
Content Marketing Tips
Understand your audience: To create effective content, you must know your target audience, their needs, interests, and content preferences. This knowledge helps you craft relevant and engaging material.
Create High-Quality Content. Your content should be well-written, informative, and engaging while maintaining its originality. Avoid recycling what others have already said.
Stick to a schedule. Consistency is key to successful content marketing. Whether you're publishing daily, weekly, or monthly, regularity keeps your audience engaged and returning for more.
Share your content. Once you've created valuable content, it's vital to share it for visibility. Post it on social media, submit it to directories, and reach out to fellow bloggers and websites to explore sharing opportunities.
Measure your impact. To fine-tune your content marketing strategy, it's essential to track your results. Understand what's working and what's not, enabling continuous improvement over timeContent Marketing is a relevant and consistent marketing gimmick, used by creating, sharing, and marketing such online materials which include writing blogs, creating videos, and using social media. The purpose of doing content marketing is to attract such buyers who have clear intentions of buying the product but for some reason, he is not purchasing.
You can look for companies doing Digital Marketing for the purpose of doing Content Marketing. Else,
Content Marketing Strategy:
Content marketing strategy? you need a strategy to optimize your marketing goals
Content marketing is a strategic marketing approach focused on creating and distributing valuable, relevant, and consistent content to attract and retain a clearly defined audience — and, ultimately, to drive profitable customer action.
These are the strategies that are used to achieve organizational goals by using content as the primary tool. These strategies should focus on answering customers' needs.
You have to create content that is useful for them. Below, you will get to know how to build your content marketing strategies.
Content marketing's planning in a strategic manner is common these days, companies make plans to maximize the output. This article is also a piece of content & we want you to read, however, this is a secondary thing. Your benefit is the information you can get from here, but if you see our goal then it's reasonable & it's important.
Steps you should take care of while building content marketing strategies-
1.  Decide the objectives that you need to achieve and set KPIs to measure it
The first thing you do is to decide the desired future outcome for any action taken. So, before developing strategies you should clearly determine what you want to achieve from the plan. This will provide you with a path through which you can reach the outcome.
To support these objectives you have to set Key Performance Indicators, which is a measurable value that determines whether the objectives are achieved or not. These are set to measure the success of actions taken to reach the desired goal.
Therefore, before making your Content Marketing Strategies you should decide what you want in advance and set KPI so that you can focus on these objectives.
Here is some example…..
Use KPI standards. The first step and arguably one of the most important ones is to start by defining the key performance indicators that you will track. …
Assess your current performance.
Take a look at competitors.
Define short- and long-term objectives.
Summarize everything and double-check.
2. Set your target  audience for which you want to choose
The Target Audience are potential customers who are likely to buy our products. So we need to differentiate between the general audience and the one who has a strong intention to buy your product. Doing good research will help to generate leads.
Now, you have defined the audience you need to cater to. let's move forward to…
3. Choose the right format for the audience and distribution strategy
In content marketing, we have various ways to send our intended message to the customer by using blogs, videos, or by creating social media posts. So, if you want to convey your message to your defined set of customers you need to do some research about the way they surf the internet.
Whether they are spending their time on websites reading blogs or whether they are going to youtube to watch videos. As we all know the Impact of Social Media on people. Everybody has their accounts on multiple social media platforms and they spend a good amount of time. Therefore, you need to choose the right format to reach your audience.
Writing a blog can generate their interest, Social Media posts can build trust and video can persuade them to buy. Choosing the right format is very crucial otherwise you are wasting your as well as others' time.
4. Build a content plan to execute
Choosing the right format is not the end of the process. You need to be consistent in sharing content across the buyer's journey. What you will be doing in this is following up with the customer.
Different stages of the buyer's journey are Awareness, Consideration, and Decision. All of these stages require different types of content plans. You have to take buyers through this process by creating content aimed at every stage of the journey.
5. The last step is measuring the success
Last but not least is measuring the success of the strategies you have made. This will give you
a clear insight into whether you are successful in achieving your goals or not. By measuring you can access the gap between the desired result and the actual result. Through this, we can have some key points on which we will have to work on, correct our mistakes, and keep these points in mind for the future.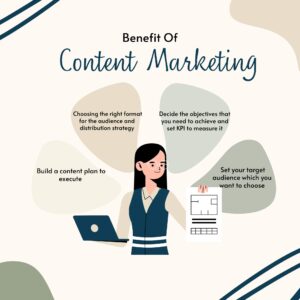 Conclusion
After reading this article, you can now conclude that Content Marketing is a
process in which we track buyers' journeys. And by doing content marketing we try to enter them into a funnel that makes a stranger our visitors through which we generate leads. These leads can turn to our customers.