No dynamic website designing means your business is killed by competitors
Yes, that's true. Competitors can finish you up if you make a single silly mistake in your business, Making a non-dynamic website is one of the biggest mistakes of your business if you live in 2023. To learn about the advantages of dynamic website designing read this article.
Businesses are up to date, every time they introduce a new product on their website they can post it using the easiest dynamic panel they got designed by their website designer. This way they reduce every time maintenance & content update costs.
But you cannot do it. The reason is so simple you choose the wrong static website which has a lot of maintenance costs that you can never afford at the end of the day.
Here we explain straightforward reasons why your website can't grow against your own industry's giants.
Also, know the benefits of the website.
Benefits of dynamic website
Dynamic websites are ultimately based on HTML and CSS as well, but server-side scripting is required to make them functional. When a dynamic page is accessed, the code within the page is parsed on the webserver and the resulting HTML is sent to the client's Web Browser.
It allows users to interact with the information that is listed on the page. A dynamic website generates the content and displays it based on what actions the users make on the page.
A website whose development is managed by an application server running server-side scripting is said to be server-side dynamic. In server-side scripting, variables control how each new web page is put up, including how to configure additional client-side processing. According to wikipedia (source)
The preferences of the users alter what is displayed to them, which can be an intricate process based on the sophistication of the website.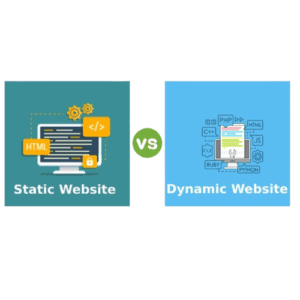 Types of dynamic websites that are available
Why your business needs Dynamic website designing?
A dynamic website is excellent for sharing information, gathering information, and continuously changing material. You need a dynamic website if you want to market your business online. Typically, a content management system (CMS) like WordPress powers dynamic websites. Another mentality is static vs. dynamic.
A dynamic website may allow you to add more pages than a static website which helps you to justify your business better. You do not need any website designer to change into a dynamic website, you can do this work yourself with a dynamic website, which is a very good thing, it saves money from going to your website designer again and again. For this, you should go towards a dynamic website and you should also have a good budget to make a good dynamic website.
You can also read some questions about dynamic website design in Quora
1. Offers more possibilities
A dynamic website is a complex thing to create but it offers more possibilities. Whereas static websites are more limited yet are super simple to create.
2. More Flexible to Create Features
A dynamic website gives you flexibility to the website, you can add interactive features to make your website more interesting.
3. Easier to maintain a website
It is easier to maintain in the long run as they encourage efficient data management and you can expand them with extra functionality in the future.
4. Easier to update content on the website
When you are using a CMS web interface to manage content, it becomes easy for you to make changes. The owner of the website can easily update the content. As no expert computer knowledge is required.
Conclusion
You can now evaluate all the points and make a decision to choose a dynamic website design over a static website. As a businessman, you are required to stay updated and stay ahead of your competitors. So, choose fast and enjoy the benefits of a dynamic website.