E-commerce business plan mistakes
Lack of Market Research:- If you are trying to do an e-commerce business without market research then you will surely fail that's how you should do your work before doing an e-commerce plan.
Unclear Value Proposition: Your business plan should clearly define what sets your eCommerce store apart from competitors. A vague or generic value proposition can make it difficult to attract and retain customers.
Ignoring Mobile Optimization: After creating an e-commerce website, a cheap developer has been hired, who ignores mobile usability. This is a big loss for your website Because people purchase from phones and not from laptops or PCs.
Underestimating Costs: Many business people who say e-commerce underestimate the effort involved in it, which is very expensive for them. Before getting into this, you need market knowledge such as inventory marketing, website development, and customer support.
Overlooking Shipping and Logistics: Shipping and logistics can be complex and costly. Ignoring these aspects in your plan can lead to unexpected challenges and expenses. Be sure to outline your fulfillment strategy, shipping costs, and return policy.
Inadequate Marketing Strategy: Relying solely on organic traffic without a well-defined marketing strategy is a common mistake. Your plan should include a comprehensive approach to online marketing, including SEO, social media, email marketing, and paid
Ignoring Customer Service: Customer service is a crucial aspect of eCommerce. Failing to address customer support and engagement in your plan can lead to negative reviews and a damaged reputation.
E-Commerce Website design plan in 2023
Planning a blueprint for website designing in case of an e-commerce project is not a game of kids actually, so when you are planning to make an eCommerce website you need to understand the basics of online sales, not technically but from a sales point of view.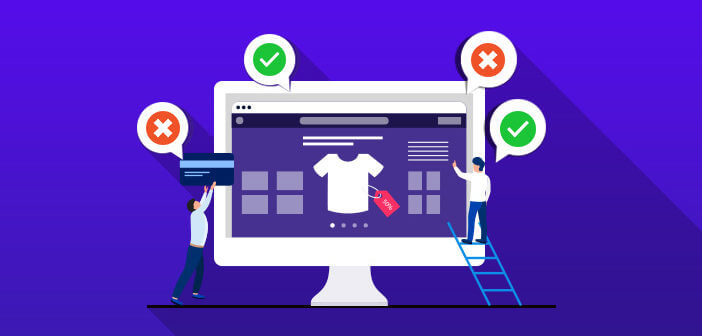 E-commerce is not just a website but this is a complete shop, If you want to make an E-commerce website just because some neighbor made it & he is selling on it then this is not the plan, this is mob mentality.
Before we start, here are 55 commonly made mistakes that can ruin your e-commerce project, We give you a list of 55 mistakes, read it carefully.
Avoid 55 Common eCommerce Mistakes list to make eCommerce website designing plan
Choosing the wrong technology: However every technology, language & script is brilliant, still you should rethink it. It may be WordPress, ASP.net,

PHP

, or normal HTML CSS-based design, but you should ask yourself the first question, Why are making you a website? is it for catalog purposes or marketing purposes, Do you want regular updates on it, or your data is static on it, Check developer availability & the maintenance cost, above all your budget handles everything. for example, If you can't afford an elephant at your home, don't buy it. Buy a parrot that is also a beautiful pet.
Choosing a layout that the web designer suggests: You should decide on the layout of your website because you know better about your business than a website designer. You depend on a web designer which means you don't know how to present your business, A salaried web developer can't design your business root, it may be an online catalog type website or marketing type. You can ask for any idea but completely following it is not good.
Following colors & designs only you love & you think others would love too: You can't use only those color combinations that you like, you should consider your business types after that you should decide on the color. You can consider this tool for your website niche – Click Here. See! Every industry has a particular color presentation sometimes but may be different in your country, We don't recommend too loud designs if you are making a business site.
For blogging, a simple not too shiny site is fine until you are not blogging for "SHOWOFF Subjects" like cinema, sports, clothing, women's things, toys, etc.
If you are in the sports business or in adventure, you can choose heavy & loud fonts. This is just an example. All we mean is rethink your color combination or ask any experienced graphic expert. You can't be right all the time especially when it is about colors & design. But give your decision to your web designer after making up your mind 100%, because they work on SOW, & you give the idea of such color & design things before the project starts.
Not planning later content maintenance on your com website: When you have a website, you have to update content all the time, price changes, image changes, etc. You can't ask them every time to the designer to change it, you must have a team in case of e-commerce or make yourself able to update your website later, as we said this is a project. It's like your physical shop which needs employees, so plan who will do it for you later for a successful e-commerce project.
Not planning for shipping modules on your website: You should make sure that you have arranged a proper shipping management system so that there will be no issue when the product is delivered to the users.
Not planning return & refund management: You have to make sure that you have planned a proper return and refund management. In the case of e-commerce, people buy & people return, this is a fact, How would you want to handle this return & refund factor? This increases trust so keep planning for it.
Following established e-commerce models of giants like Amazon: As we all know, Amazon is a very reputable & popular brand. Every businessman or startup organization wants an e-commerce website like Amazon. Following them is not a good idea, because when they started, the situation was different the internet was different. People were uneducated, & today they are multi-billion, so if you want to beat them. Practically impossible on Normal temperature & pressure. But you have to accept that you have to go with a USP(Unique Selling Point) that can grab the customer's mind towards your brand. USP may include pricing strategy, special offers, coupon discounts,s and so on.
Forgetting search engines: While making an ecommerce website you or your web designer must consider the search rules of search engines in 2023. Today AI joined search engines, so make a website that can follow Google's guidelines else you are running a flop e-commerce website store business before it starts properly.
Complicated checkout process [1]: A long and complex checkout process can reduce the excitement level of customers for purchasing a particular
product or an incomplete purchase order. Make sure to choose a short and simple checkout process for customers.
Not understanding the target audience for your project: The most important step of your business is to understand the types of audience means selecting the size of the target audience that relates to your brand.
Lack of customer reviews: On your E-commerce website, do not forget to add some testimonials so that customers can build some trust in their minds toward your brand. You can try to show some reviews of your new customers or previous customers who have put some positive reviews about the products.
No trust building: By the above point (Testimonials) you will be definitely able to build the trust and credibility of your business towards customers.
Not offering coupons: By offering various coupon codes you can surely attract a large audience size. At the beginning of your brand journey, your
businesses try to get awareness from the public. This is the best option(Coupon Code) for getting your business awarded by the public.
Not investing in security [2]: Sometimes there are some chances that your website got hacked by hackers which can automatically stop the business from working flow. So it's important to invest some funding in your website security too.
Creating your own e-commerce CMS custom-designed setup: Opting for a custom-designed content management system (CMS) without considering the cost, maintenance, and scalability implications can lead to technical challenges and limitations.
Choosing the wrong hosting server: Always try to choose a compatible hosting server that can solve the problem of slow speed,& can ensure runtime resource availability. It should handle frequent downtime to deal with a high volume of traffic at the same time.
During this time, add a lot of features to your old hosting: If have opted for SHARED HOSTING SERVER, then you should not try to add a lot of features by installing unhealthy plugins, which can result in cash for your website.
Absence of tech support: If there is no technical support to the website then there are high chance of the user bad experience and not being able to resolve the other website queries.
Poor customer care: Your E-commerce website should have proper customer care support otherwise it will result in customer dissatisfaction and
negative word-of-mouth which can decrease the business's reputation and credibility.
Unethical policies of your e-commerce store: You can hire a lawyer for policy matters of your business because they will save you from unethical policies. It's the most crucial element that your targeted audience will be able to see some rules & regulations of your business.
Not making a website according to current year SEO: You have to make sure that the E-commerce website is aligned with the latest updates of SEO. It will improve your ranking in search engines and drive more organic traffic to your website.
Preferring high-tech websites over marketing: If you have a good budget then you should invest in marketing campaigns or you should
focus on creating awareness about your business not on having a website like Amazon.
Ignoring Social Media Push marketing strategies: Having a website it's good for search engines and your online availability. By sharing or
posting on various social media platforms like Instagram, Facebook, Twitter, etc. you can reach a large audience size.
Not using scalable technology for e-commerce website designing panning: Not using scalable technology for e-commerce website designing panning:- In the future, if you would like to expand the technology, it's normal & it changes from time to time. If your e-commerce store's technology is not scalable then you will see this business in problem. Try to use scalable technology.
Copying content: People love copying content, today There are tools too, many AI content tools available in marketing those tools produce
AI-generated content that decreases the ranking of your website or can put some penalties on your website that can affect the business working flow. Also, don't scrap your competitor's data, it will cost you without your knowledge.
Weak social media proofs: By posting regularly on social platforms you can achieve a good amount of followers and engagement from your target audience. Which can ultimately create strong social media proof for brand recognition.
Surprise fees: Unexpected additional charges during the purchase order can lead to dissatisfaction among customers which will surely affect your overall revenue.
No guest checkouts: By forcing customers to create an account before making a purchase can lead to a decrease in buyers. So creating an account on your website should be optional to the user not mandatory.
Creating Jargon-rich complex content: Try to use simple language in the product's title and description. By using heavy and complex language there are more chances that customers will get confused, which will surely increase the Bounce Rate.
No true value to customers: If you are unable to communicate your Unique Selling Point to the customers, customers are
not able to get your specific product details. then It will lead to customer turnover or provide no value to customers.
Expanding before you are ready for it [3]: Thinking prematurely about business growth may lead to decreased quality of customer service.
Ignoring the artificial intelligence of search engines: If you are not able to optimize your website for new search engine features AI-driven features like voice search can reduce organic traffic and visibility.
Render blocking elements: There are some elements that you should avoid as those elements decrease the page load speed. Sometimes footer section loads before the header section and this is not good for your users. This happens because of your e-commerce web developer's silly mistake of putting the footer section early
Too much animation: So many times using animation on your website can lead to the low speed of your website and your users will not be able to get the main content like product listing, categories of products, CTA, etc.
Losing simplicity: Overcomplicating user interface can confuse the customer and will not be able to get the thing that he/she is searching for.
Choosing an inventory model more than you can afford: Before starting an E-commerce business you should plan your inventory management. Try to you can be sold and could be able to provide value to customers. Over quantity of your inventory will prove fruitful for your business.
Losing Mobile First Designing: It's important to optimize your website for mobile responsiveness and try to improve usability for user experience otherwise you will lose your potential customer with the upcoming one.
No Sitemaps: You must submit a sitemap of your website so that crawlers can index and retrieve your website's pages effectively and efficiently. This will help search engines in ranking your website's pages.
Too Many Popups: Sometimes too many popup effects can be a little annoying to the users and if your website contains too many popup effects then there are chances of a higher bounce rate.
Too many or too less filters: Too many or inadequate filters are not good for an e-commerce website as it challenges the users to find the products in relation to their query.
Very long URLs: Don't use long URLs as these are less rememberable to the users and users will get confused about he or they should share the product or not. Also, search engines don't like it.
Not leveraging Google merchant center: Try to upload your industry product on Google merchant center. This helps the user to directly watch your products and other relevant information for product exposure.
Not doing offline marketing: Marketing your business online is good but don't forget traditional methods of marketing. Digital marketing added another way of marketing but this does not mean forgetting traditional methods, Market it in your local area by pamphlets, visits, presentations, or by making some ad material or using different ad mediums.
Targeting a large geographical area: Targeting a large geographical area is not that beneficial because your targeting could be small but should be specific which can attract a small volume but an attractive customer base.
Not regularly updating your pages: You should try to update your pages timely because outdated information can decrease user trust and could be harmful to the search engines too.
Cheap e-commerce website: If you are opting for a low-quality website or poorly designed website then it will lead to stop the customer from making a purchase and decrease the credibility of your website. A cheap website is always cheap, in return too.
Over attention to designing not on sale: It's good that you are considering designing elements first but it is also important to pay more attention to the sale process. Because it will lead to a high conversion rate.
Improper categorization & sub-categories in your e-commerce store: As an E-commerce industry, it's important to categorize the items in their related categories and sub-categories. This will help the user to easily find the searched item/product.
Ignoring SSL: Ignoring SSL Encryption could be dangerous to your website because hackers can steal your buyer's credit card information. Use SLL properly.
Limited payment options: By offering only a few payment methods you are stopping users from making a purchase as it's possible, in the case they use alternate payment options which are not available on your website.
Not offering COD on your low-cost products: If you exclude the option of CASH ON DELIVERY for low-cost products then this is not fine, because on the low risk you earn client trust, so use it on such low-cost products at least.
Not taking a small percentage at order placement (for high-cost products): If you include a

small percentage

on the high-cost products then you can save yourself from financial loss as this small percentage amount indicates the user's intention behind placing an order(means he/she actually serious about making a purchase).
Not having a CRM: Not having a CRM is a bad thing, you can manage customer follow-up & automate your process in a better way, Hubspot, ZOHO, and Bitrix are very popular & low-cost CRMs that can help you with this
Making your website a complete software by using a lot of not necessary code: Making your website like complete software is not a good idea, you do not want to buy CRM then do things manually don't ask the website to make bills if your budget is low
Hiring a freelancer who can make your website: Depending solely on freelancers could be a little unsafe for your website as they just create your website and handover to you after that if there is any glitch that occurs then the freelancer may not be able to help you.
When you are planning an e-commerce website, you must be prepared for a few good things & vice versa. This is all about how you calculate the budget for your new e-commerce website design plan.
Because today an online business is similarly as expensive as an offline business (At least you must compare this with a small
shop). A small offline shop has a small space, and at least 1 helper, you have to pay the employee & pay your rent. This gives a clear idea of what budget you should think of for an ambitious and successful e-commerce website.
You should keep this eCommerce expense idea in mind when you are planning to create an e-commerce website. This is a hard fact without digital marketing eCommerce sale is almost impossible.
Vice versa it brings some good news to you, With the right promotional digital marketing budget you can earn 6-10 times more than a normal offline business. (Just a sales estimation based on our experience)
Another good news is, that sales at an e-commerce website are more instant than at a shop where you have to wait for months to build a customer relationship.
Those who understand this e-commerce formula of business can make their e-commerce website a selling machine. Rest who don't understand this, create another liability that never gives you anything you expect.
There are a lot of e-commerce websites in the market. At least in any metropolitan city like Delhi where every street has 2-3 e-commerce sellers, the competition is very tough & you can consider this is the most difficult thing to achieve without online marketing.
Without knowing the basic eCommerce website features, you jump in to make a big website:
Website designing is not as simple as printing pamphlets for business. Most people plan websites by seeing websites of rivals, neighbors, relatives, or friends. As a result, they repeat mistakes done by them, and this mistake repetition becomes common in the market then it becomes a trend (a bad trend that finally backfires).
Every eCommerce business plan is different, everyone has a different budget different products, market, profit mindset, raw material cost, and staff that can work on an e-commerce website.
With this huge difference if someone copies a business model, then this is one of the most unrecommended ideas ever. Everyone should rely on his decision-making because nobody wants to be part of the rat race.
We recommend that you know the features that you can opt for. Don't say you are not technical because you are not going to design these features but you are going to use them.
Over-analysis of the decision to make an eCommerce website:
Yes! Over-analysis is a common typical problem in entrepreneurs. Over-analysis is the only problem that stops you from doing anything. For instance, you have a business plan. Just overthinking stops you from the beginning. Doing something and failing is better than not doing it. In fact, website designing & its promotion cost less than the time you waste thinking, avoiding then rethinking the website design plan.
No time is right or wrong, no market is up or down. Is this about the model you are in? Just 2 questions arise here: Are you in the modern business model? or the old traditional model? The Internet is present today & the future too where no space for late-comers.
Other reasons are secondary, they are different from the above 3 because the above are planning-related errors & the rest are technical.
Missing features in your E-Commerce website design plan:
There are a bunch of features that ultimately improve trust. It's important for any eCommerce website design to include them. The reason is website trust, you are expecting your buyer to pay on the website.
If you don't follow his mindsets, confusion & do not work to win it your website can't be successful. Never forget there are giants in the market who are already in competition.
A chat box or your no. on your website top helps customers to trust you. Inventory management helps you to manage your stock. There may be different size variants, conditions & minimum order limits.
A well-created policy page helps them to gather more information from you. Depending on a lot of marketing strategies, website designers can suggest you apply conditions to it.
If you find a coordinator in your website designing company then there are good chances if you ask them then they will tell you the real-time solutions. A marketing coordinator is a person who knows the market and knows how to sell digital marketing. He also knows real-time practical problems with eCommerce projects. He works as a bridge between the designer & client. So choose a company that has at least one dedicated coordinator because he is the person who saves your business.
How your poorly designed website loses customer trust:
When someone comes to your website & sees this website is working without SSL. As a result, they see Not Secure Warning in the browser, at another instance they experience slow speed. Website visitors assume your website may be a scam.
Since SSL is a product & you have to buy it like a product. A cheap website that doesn't have SSL. Not having SSL may save you money for a while but soon it will cost your whole eCommerce planning, project, hard work, & money you already spent. Because nobody will buy if they see no secure warning. Why does the buyer put his credit card details on your website if he knows it is not secure?
Slow e-commerce websites:
The reason is not technical but a part of human behavior, people don't trust you if your website causes difficulty for them to open.
Wrong amount ratio division for online marketing: A general thought considering the Indian market only if you are selling regular products:
For some specialized products, this idea may change, maybe your digital marketer gives you some other ratio that is also fine because on the practical ground, these ideas get changed. It is highly advised to listen to your marketer only
No matter what your budget is, tell your service provider about it. Spend 60% monthly budget on paid ads. rest 40%  should go for organic marketing. Because you need sales instantly & ads give you revenue instantly. so giving 60% to the ads is a fair shot.
But the problem, ads are costly (comparatively) so if you want to reduce your cost for later then give a 40%  budget to organic promotions. This 40% will not give you instant results but later it will reduce your ad cost & by using the same amount you can generate more sales.
Maybe by SEO or other SMO techniques, you get direct sales too, SEO will add many keywords & increase your visibility on search engines. All that organic promotion does is create your branding. Once you are established as a brand you can drive more sales.
This is to keep in mind while planning an e-commerce project, branding is essential, if you think you can sell only by ads then you are planning to dig a hole in the earth to travel to another side of the planet. In long-term business, this strategy fails because this is like digging well every day for your business. High bidding in ads, increasing day-by-day competition, and not having your loyal client base may cause your e-commerce business to shut down in later years.
When you become a brand you get high CTR, few sales are made just because people know your website already.
But again, all this information is general information & may change at ground level.
From a paid ad point of view, there is no problem. But the problem is branding. You're obviously selling in the whole country. The problem is branding, 99.9999% of businesses do not have enough budget to create branding all over the country, but in small areas, you can do it easily.
Let's assume in your e-commerce business you are targeting the whole country but without branding. You can't cover each city, state & district. Vice-versa in a state or in any metropolitan city like Delhi if you do branding then you can drive the same sales but this time it's with branding. As you reduce locality size you get more chances to be a brand.
If you target just south Delhi with your social media ads, in this zone this is easy to become a brand. Another point most e-commerce small businesses have inventory not enough to sell in such small locations as South Delhi. Why not better be a king of south Delhi first rather than try to become king in India?
Again these concepts can work differently for every client, so listen to your marketer who is serving you. This is just to clear your thoughts.
Conclusion:
If you have a budget problem, then don't think an eCommerce website is a low-cost business. You also need to manage resources here like a normal shop.
Ask about all the features website designing companies can provide, & know why they are important.
Use your mind, and decide for yourself. Don't follow websites from friends because repeating mistakes become in tradition.
Of course, eCommerce websites help to sell, but you need to have a marketing plan.
Unlike shops, eCommerce business gives results instantly.
Divide your budget for marketing into different segments.
Don't try to save because a small amount can save your whole project, ultimately the project is important.
The sale of a regular eCommerce website can make depends on your marketing budget, if it is zero then sales will be almost zero.
Footnote:
There are many common features that can be opted for in eCommerce website design plans from informative website designing types. But keep in mind e-commerce website's structure is quite different from a normal website, so while doing a price comparison don't compare with a regular non-eCommerce website's pricing, Yes you can opt for almost every feature that a normal website has which is non-e. To know what other features you can go with this article. Reading this will give you some better advantages.