Can over-bargaining low-cost website design harm your digital campaigns?
Yes, bargaining is not a bad habit, it's certain, people do it when they buy anything like it, but remember! if you are buying your website under price
then certainly it's not a proper website & can lack a lot of features unknown to you, at least.
So let's start our conversation on today's topic "low-cost website design"
Over-bargaining can cause issues later because of a lack of resources. No one can work underprice, developers know how to work so within this article you would know what limits are there you can bargain up to.
A list of popular resources is here, where you can lack, so at the time of finalizing your website's order you must take care of-
Domain
Hosting
Security
SEO compatibility
UX & UI for users
Major reasons why over-bargaining is low-cost website design can harm or kill your digital marketing campaign:-
Restricted Hosting feature
The low Speed of the website
Improper SEO, No Security
Bad User EXPERIENCE
Mobile Friendly
1.  No TLD Domain name can cost you your whole business digitalization
A domain is a specific website address that can be accessed through the Internet.  To have a good website, we need a good TLD domain.
TLD means (Top Level Domain) Whenever you buy your domain, always remember that you have to take TLD domain only.
It makes your website easier to find for visitors and lets search engines understand what it is all about. A good domain name is succinct.
simple to remember, and expresses the purpose of your website. A good domain name selection is essential since it can raise your website's search engine ranks and bring in more visitors.
TLD Domain identifies the type of organization or entity that owns the domain. Some common examples of top-level domains include:
.com (commercial)
.Edu (education)
.Gov (government)
.NET (network)
.org (organization)
Some Best TLD Domains are ( .com, Edu, .gov, .NET, .org .in ) etic.
Due to bargaining web designer does not use the TLD domain. They use low-quality or free domains. Google does not give too much weightage to Low-quality domains.
If you want to make a great website that can be promoted later, you should choose a domain TLD which is popular. We believe there can be some expenses of 10 $- 20 $ for domain name registration costs but of course, in the long time you will be proud of your decision
2. Limited Hosting feature
Hosting is the process of storing and maintaining websites.
or other content on the Internet. When you host a website, you provide space on a server that can be accessed by users through the Internet. This allows people to access your website and view its content.
web designers use poor quality or free hosting to save you money for you. But the reality is even if you save some amount here too but in the future, you can face space problems, backup problems from the host, email-related issues, nod limits & other issues. We are sure you're over bargaining for the price of the website will not affect your digital future.
Other Hosting Restrictions may happen too
 Forced Ads
Poor uptime and slow page loading time
Limitations on storage and bandwidth.
Security vulnerabilities.
Site migration might become difficult since you might not have access to all of your files.
Poor customer service.
3. Low Speed of website
Poor page speed means that search engines can only crawl a smaller number of pages with the crawl budget allotted, which may have an adverse impact on your indexation. The user experience is also impacted by page speed.
Free hosting or low-quality hosting affect the speed of the website.
Additionally, free hosting services may place ads on your website in order to generate revenue. These ads can increase the size of your website and slow down its loading speed. They may also be distracting to users and detract from the overall user experience. Loading website
4. Improper SEO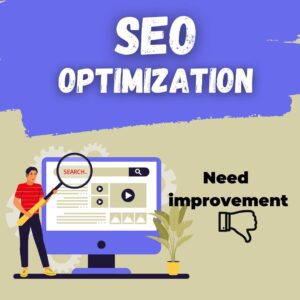 The goal of SEO is to improve the ranking of a website on this list so that it appears as high as possible in the search results. Actually, there are a lot of SEO compatibility things a web developer should do at the time of making a website, but due to your underpayments the website becomes underpriced, and later you can't do anything for promotions on such sites.
SEO is a long process to rank your website. However, due to less money, your website Designer just ignores proper SEO compatibility issues.
5. No SSL Certificate
SSL (Secure Sockets Layer) is a security protocol that is used to establish an encrypted connection between a web server and a client, such as a web browser. This encrypted connection helps to protect the sensitive information that is transmitted between the server and the client, such as login credentials and credit card numbers.
In addition to providing security, having an SSL certificate can also have a positive impact on a website's ranking in search engine results.
But in low-price websites, developers do not provide SSL certificates, & why should they do this, even when a customer is not ready to pay for this product? Low-quality hosting takes extra charges for SSL certificates.
In free hosting your hosting site does not provide SSL because they encrypted sensitive information that is transmitted between the server and the client, such as login credentials and credit card numbers. and if they provide they charge for it. All that matters here is the performance of your website becomes grade C.
Low-cost website prices in different cities-
| Cities | Low-cost website design price range (INR) |
| --- | --- |
| Delhi | ₹4,999 – ₹15,000 |
| Mumbai | ₹5,000 – ₹12,000 |
| Bangalore | ₹4,000 – ₹10,000 |
| Chennai | ₹4,500 – ₹11,000 |
| Hyderabad | ₹4,000 – ₹9,000 |
| Kolkata | ₹3,999 – ₹8,000 |
| Pune | ₹4,500 – ₹10,000 |
| Ahmedabad | ₹4,000 – ₹9,000 |
| Surat | ₹3,999 – ₹8,000 |
| Jaipur | ₹4,000 – ₹9,000 |
| Nagpur | ₹3,999 – ₹8,000 |
| Lucknow | ₹3,999 – ₹8,000 |
Conclusion
Bargaining is fine to an extent but if you do more then you will have to face all these problems. Our words are bitter but either it is truth. If you compromise with the price then you have to compromise with the quality as well.