What is offshore hosting?
Offshore hosting is like storing your website on servers in another country. People do this to keep their stuff private, avoid tough rules, or to speak freely online. It also helps guard against online troublemakers and lets you reach people all around the world.
Due to its distinct advantages and the rising desire for online privacy and data protection, offshore hosting has grown in popularity in recent years. It describes the practice of hosting a website or application on servers situated outside of the country in which the user resides, frequently in nations with lax laws, more privacy protections, and lower tax rates. We will go into the realm of hosting in this guide and examine its benefits, drawbacks, and important factors.
Advantages of Offshore Hosting
Enhanced privacy protection
Offshore hosting providers often offer increased privacy protection compared to local hosting providers. This is particularly important for businesses and individuals who prioritize privacy and do not want their personal information to be easily accessible.
Censorship resistance
Offshore hosting enables website owners to bypass local censorship and regulations, allowing them to host content that may be restricted or prohibited in their home country.
Tax benefits
Hosting a website offshore may lead to lower tax rates and more favorable tax conditions, as many offshore jurisdictions have less stringent tax policies.
DDoS protection
Some offshore hosting providers offer advanced DDoS protection, ensuring that your website remains accessible even during a Distributed Denial of Service attack.
Cost-effective
Offshore hosting can often be more affordable than domestic hosting, as lower operating costs in certain jurisdictions translate into reduced hosting fees.
Disadvantages of Offshore Hosting
Legal issues
Hosting content offshore does not exempt website owners from complying with the laws of their home country. It is essential to understand the legal ramifications of hosting content offshore and ensure compliance with all applicable laws.
Slower website performance
Offshore hosting can lead to slower website load times and reduced performance, especially if the data center is located far from the target audience.
Limited customer support
Offshore providers may offer limited customer support, particularly if they are based in different time zones or have language barriers.
Reputation risk
Hosting your website offshore may be perceived negatively by some users, particularly if it is associated with illegal activities or questionable content.
Cost Considerations
While hosting can be cost-effective, some providers may have hidden fees or pricing structures that make it less economical than it initially seems.
What should be kept in mind while taking Offshore hosting?
Pricing and plan:-
Compare the pricing and plans of various offshore hosting providers to find the best fit for your budget and requirements.
Location:-
The physical location of the hosting provider's data center plays a crucial role in determining the level of privacy protection, legal jurisdiction, and website performance. Choose a location that best suits your specific needs.
Privacy policies:-
Research the hosting provider's privacy policies and data handling practices to ensure they align with your privacy requirements.
Technical support:-
Evaluate the quality of the hosting provider's customer support services. 24/7 support and availability through multiple channels, such as email, phone, and live chat, are essential.
Security features:-
Assess the security features offered by the hosting provider, including SSL certificates, DDoS protection, and firewall protection.
Ultrahost Hosting Feature
VPS Full Root Access
SSD NVMe Disk Drives
VPS 99.99% Uptime
Affordable VPS Hosting
Scalable DDR4 RAM
Unlimited Bandwidth
Custom VPS servers
Daily Backups
Managed Server
UltaHost Managed VPS vs. VPS Competitors
24*7 customer support
Best-in-class server infrastructure
Free SSL certificate
Free migration
No free CDN in Basic Windows VPS
QloudHost is a hosting provider that offers offshore hosting services. They are known for providing DMCA-ignored hosting services that are focused on quality, reliability, and success. They use Anti-DDoS-equipped servers to ensure impenetrable security and maximum availability of your website on the internet. They also provide full DDOS protection to ensure the maximum availability of your website on the internet.
QloudHost hosting plans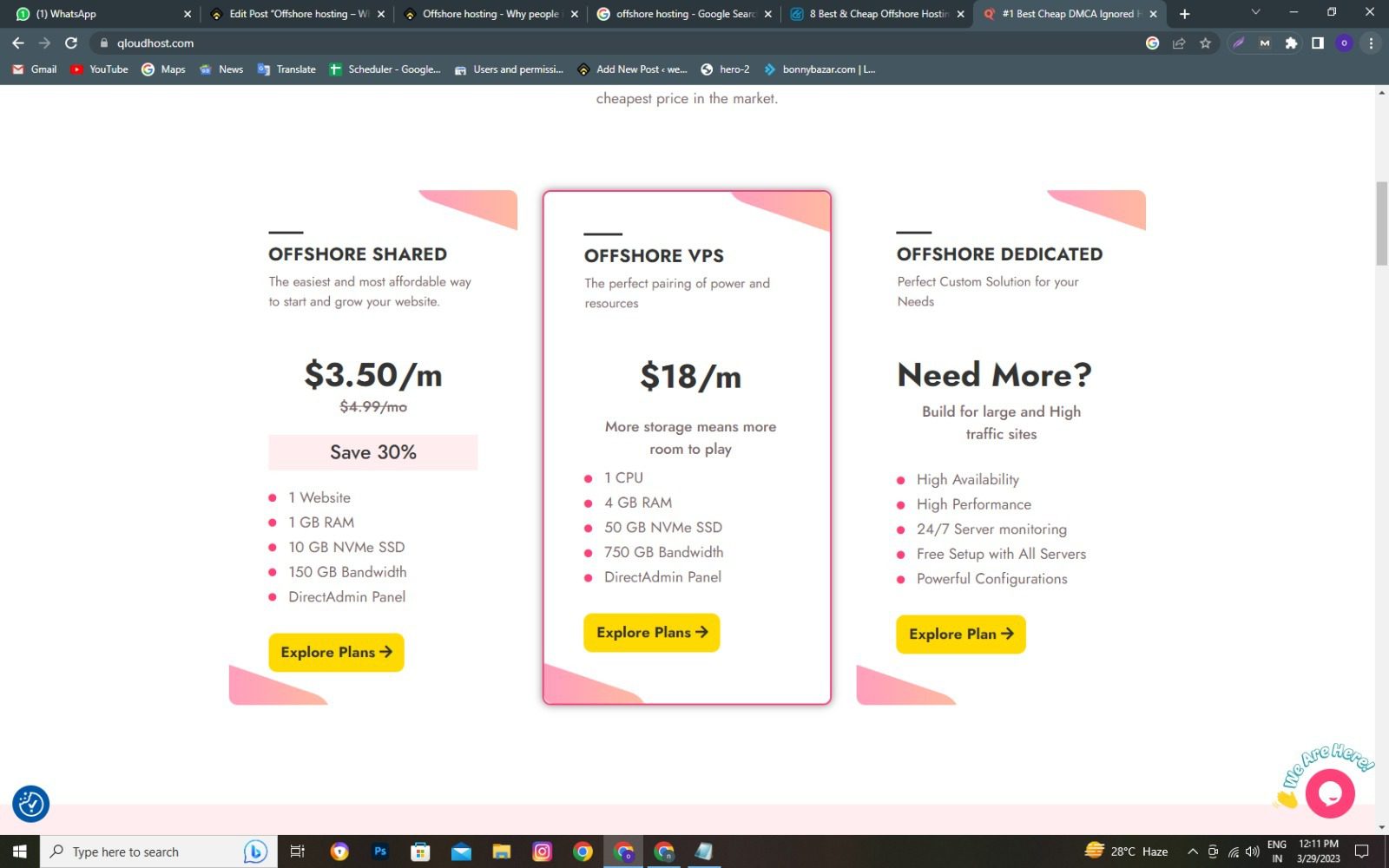 QloudHost Features
Data Privacy
Flexibility of Content
Anti-DDoS Protection
Full Root Access
Daily Backup
Prioritized Support
Pros and Cons
Fully DMCA ignored
Top-notch security
No content restriction
Excellent customer support
No shared servers available
AbeloHost is a web hosting provider that offers hosting services. They provide affordable or quality service. They guarantee secure and total privacy, data security, and a wide range of accepted content.
All hardware is privately owned and inaccessible other than by the AbeloHost team and data center personnel. Apart from physical security, Dutch law regulation protects the privacy of all stored data in the Netherlands, ensuring their customers of legal security as well.
Abelohost best features
Pros
Guaranteed Quality
Top-notch security
Unmetered resources
Entirely DMCA ignored
Cons
Very slow customer support response
WebCare360 is a privacy-driven hosting company registered in an offshore zone of St. Kitts & Nevis. They offer shared, re-seller & offshore private servers (VPS), and dedicated server hosting solutions and with the expansion of their business they are also offering domain registration & web designing solutions.
WebCare360 (VPN Hosting)
Feature 
Single-click app installer:
Powerful storage hardware
High uptime guarantee
Assured Privacy:
Country Server
Ukraine
Netherlands
Bulgaria
Available Operating Systems
Ubuntu
Debian
CentOS
Rocky Linux
Alma Linux
Fedora
Windows
Own OS
Web hosting  Price
BlueAngelHost is a provider of offshore hosting services that has gained popularity worldwide. It offers shared, VPS, as well as dedicated. BlueAngelHost servers and its Tier2 and Tier3 data centers are located in European countries like Bulgaria, Russia, and the Netherlands. They also offer free DDoS protection. Their customer support service is available 24/7.
Feature
Virtualizor VPS Control Panel
99.99% Network Uptime Guarantee
Full root & shell access (SSH) for maximum control.
24×7 Tech Support & Server Monitoring
Free DDOS Protection
Premium Hardware
Hosting Plan