SEO or PPC what is better for real estate industry
Both SEO and PPC for real estate marketing can be effective marketing strategies for the real estate industry, but they work in different ways. 
SEO (Search engine optimization) for real estate: SEO is a process in which your website content is optimized. By staying under Google's algorithm and solving every type of error on your website, it gets ranked on SERP (search engine result page). Due to this, along with the organic traffic on your website, leads and sales also increase.
PPC (pay-per-click) for real estate: This means you can run ads by paying money so that you will get paid traffic. And you will appear on the top of SERP as long as your ad is running. This is the best way to generate traffic in a short time and will increase your chances of getting leads.
Which is better for real estate?
It depends on your goals and budget.
If you want your website to rank for a long time and get continuous traffic and leads. SEO would be the best option. But it takes a lot of time to get results from SEO. And you will have to remain patient and you may also be a little dissatisfied. And hiring an SEO expert can be expensive.
If you want traffic or leads as soon as possible, then PPC will be the best option because in this you will run ad and it will remain on the top of SERP, due to which it will be able to attract more attention of people and you will keep getting leads. But PPC can be expensive and if your keyword is competitive, you may get more exposure.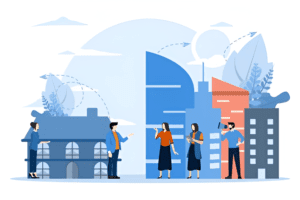 Which is more effective for lead conversion? SEO or PPC
SEO (search engine optimization)
Long-term strategy
Organic traffic
Can be expensive to hire an SEO expert
Takes several months to produce results
PPC (Pay-per-click)
Short-term strategy
Paid traffic
Can be expensive, especially if you're targeting competitive keywords
Can start generating leads within hours of launching your campaign
How to choose the right Strategies for your business
Many real estate professionals often start SEO and PPC together because SEO maintains the trend, which increases people's trust in you because you appear on top on search engines like Google, and PPC gives maximum Can take the lead.
Here are some tips for using SEO and PPC for real estate marketing:
SEO:

Optimize your website for relevant keywords.
Create high-quality content that is informative and engaging.
Build backlinks to your website from other high-quality websites.

PPC:
If you are still confused about whether you should choose between SEO vs PPC for real estate, You can contact us we are happy to help you.