What is tumblr?
A social media platform called Tumblr combines elements of social networking and blogging. David Karp founded it in 2007 with the goal of giving users a creative outlet and a way to connect with people who shared their interests. Users may sign up for a free Tumblr account, personalize their profile, and start sharing stuff right away.
How much tumblr popular in India?
Tumblr is not popular in India because Indian people don't know about Tumblr. Maximum tumble user belong to united states. Here is a graph of tumblr user by country.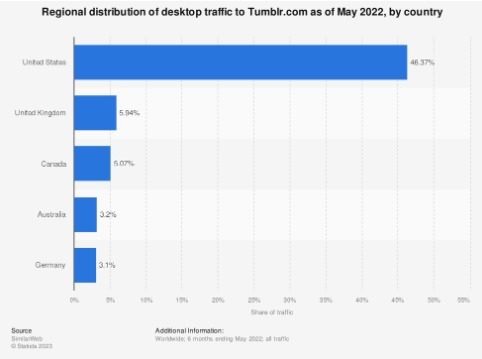 Tumblr is not very popular in India compared to other social media platforms like Facebook, Twitter, and Instagram. The platform's user base in India is relatively small, and it has struggled to gain significant traction in the country.
There are several reasons for Tumblr's limited popularity in India. One factor is that the platform has faced several controversies related to its content policies, which have led to it being banned in some regions of the country. The platform's user interface and design may not be as intuitive or appealing to Indian users compared to other social media platforms.
How to create a tumblr account?
Setting Up Your Tumblr Profile
Tumblr, setting up your profile is the first step to getting started on the platform. A well-crafted profile can help you stand out and attract more followers to your blog.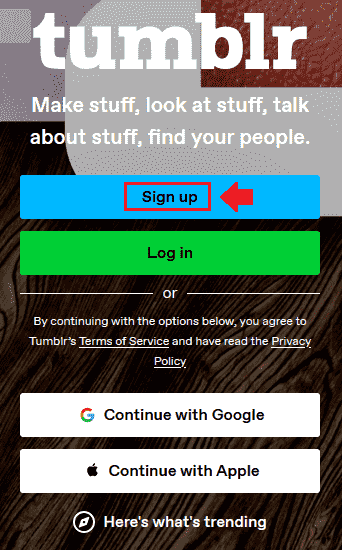 Step1. Choose a username:
Your username should be simple to remember and type. Use of symbols or numbers in your username can make it more difficult for people to find you.
Step2. Create a bio:
Your biography should be succinct, engaging, and direct. Describe your blog's focus and what your readers can expect to find there. By including a few personal details about yourself, you can further give a personal touch.
Step3. Add a profile picture:
When someone visits your blog, they will first see your profile photo. Choose a picture that clearly and instantly identifies you or your company.
Step4. Customize your theme:
You can choose one of the many editable themes that Tumblr offers to give your blog a more distinctive appearance. Choose a theme that complements your business and aesthetic.
Step5. Add links:
You can link your Tumblr profile to any websites or social media accounts you may have. This may encourage users to visit your other web properties.
Why Tumblr is a Great Platform for Business?
Tumblr can be great platform for business for several reason:
Social media has grown to be an essential component of marketing plans for companies. Tumblr is one of the most underutilized social media sites for company, and businesses are constantly looking for new ones to connect with their target audience.
1. Large user base: 
Tumblr have a large amount of professional users which mean there is high potential for business and easy to target your audience.
2. Visual content:
Tumblr is a visual platform to showcase your business and share photo or video of your product and get high reach.
3. Social networking:
Tumblr allows businesses to connect with their customers and other businesses in a social networking environment.
4. Easy to use:
Tumble is easy to use This makes it accessible for businesses of all sizes, from startups to large corporations.
5. Mobile friendly:
Tumblr is mobile friendly. This means that businesses can reach their audience anytime, anywhere, and on any device.
Tumblr has a tone of features that make it a terrific platform for businesses. It is highly flexible. This post will discuss the benefits of Tumblr as a business platform and how it may advance your company.
Utilizing Tumblr's Unique Features for Business
Here is some tips:
1. Reblogging: One of Tumblr's most useful features is reblogging, which enables users to share blog posts from other users. This might assist you in broadening your audience and luring new readers to your blog. Make sure the content you're reblogging is pertinent to your business and audience.
2. Tags: Your posts can be categorised using tags to make them simpler to discover. To increase the chance that new users will find your content, utilise pertinent tags. You can use tags to find and interact with the posts made by other users.
3. Ask box: Users can send you questions or comments directly by using the ask box. By doing this, you may interact with your fans and gain their opinions on your work. Ensure that you are promptly and professionally responding to messages.
4. Fan mail: Users can give you longer, more in-depth messages by using fan mail. Fan mail can help you establish more meaningful connections and interactions with your followers.
5. Audio posts: Tumblr users may upload audio files, which is a terrific way to mix up your material. Share music, podcast episodes, or other audio content that is pertinent to your brand by using audio posts.
6. Chat: Users can communicate in real-time with one another using Tumblr's chat feature. Building relationships with your followers through this can be quite effective.
Engaging with Your Audience
Engaging with your audience is essential to building a strong presence on Tumblr. Here are some tips to help you connect with your followers and build relationships with them:
1. Respond to comments and messages: Make sure you reply as soon as possible and professionally when users leave comments on your blogs or send you messages. This demonstrates your respect for and consideration of your followers' opinions.
2. Reblog posts from other users: Reblogging other people's content is a fantastic way to support them and engage with your audience. Make sure the content you're reblogging is pertinent to your business and audience.
3, Host contests and giveaways: Giveaways and contests are excellent ways to interact with your audience and build excitement about your business. Use the question box and other distinctive elements of Tumblr to collect entries and select winners.
4. Participate in discussions: Make sure you're communicating with other users and participating in debates on Tumblr because it's a social media site. Find conversations that are pertinent to your brand using relevant tags, and respectfully and thoughtfully provide your perspective.
5. Use humor and personality: Don't be hesitant to add some of your brand's own voice and perspective to your postings; Tumblr users love personality and fun. Employ jokes, puns, and memes to inject some humor into your writing.
Cons of using tumblr for business
Tumblr is great platform for small business growth but they also have some cons give below:
Limited analytic:
Tumblr's analytics tools are limited, which can make it difficult for businesses to track the performance of their content and make informed decision about their marketing strategies
Less professional environment:
Tumblr is known for its casual and sometimes irreverent content, which may not be suitable for all businesses or industries.
Short form content:
Tumblr's focus on short-form content, such as images and short text posts, may not be ideal for businesses that want to share longer-form content or detailed information about their products or services.
Limited advertising option:
While Tumblr does offer advertising options, they may not be as robust as other social media platforms, which can make it challenging for businesses to reach their target audience effectively.
Measuring Your Success on Tumblr
Measuring your success on Tumblr is important to understanding how your content is performing and making improvements to your strategy. Here are some metrics you should be tracking:
1. Follower count: Your number of followers is a crucial sign of your audience reach and engagement on the site. Make sure you're tracking the number of your followers over time and establishing targets for expansion.
2. Engagement rate: The amount of likes, relogs, and comments on your content that come from your followers is reflected in your engagement rate. By dividing the total number of interactions by the total number of impressions (views) for a certain content, you can get your engagement rate.
3. Traffic to your website: Track the amount of visitors your Tumblr blog is bringing to your website using tools like Google Analytics. You can use this to evaluate the return on investment of your Tumblr strategy and pinpoint areas for development.
4. Brand mentions: To keep track of brand mentions on Tumblr, use tools like the search bar. This can assist you in locating user-generated material and interacting with customers who are mentioning your company online.
5. Click-through rate: The percentage of people who click on a link in your post is measured by the click-through rate. Employ link shorteners like Bitly to track the number of clicks on your links so you may modify your approach as necessary.