Twitter Marketing Services in India
Twitter Marketing Service in India Cybertooth India offers top-notch expertise in managing Twitter marketing, allowing you to make use of the enormous potential of this amazing social media network to your company's advantage. Speak with the professionals to provide the finest.
Twitter Marketing
(overview)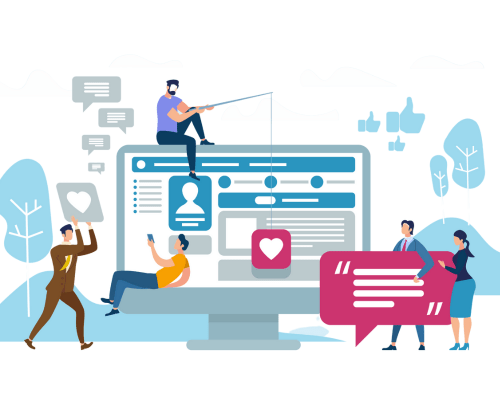 Twitter marketing services are tools that help businesses do better on Twitter. They help set up and make the most of a company's Twitter account by creating cool posts, managing interactions, and even running ads to reach more people. These services also track how well things are going and give insights into what's working. Using these tools can boost how many people know about a brand, make the brand look good, and bring more visitors to the company's website by sharing interesting stuff and links. It's like having a smart helper to make a business stand out and connect with more folks on Twitter
Benefits of
Twitter Marketing Services
Increased brand awareness 
Twitter has over 330 million active users, which means that there is a huge potential audience for your business.
Improved brand perception
Twitter is a great platform for building relationships with potential and current customers.
Generated website traffic
 Twitter can be a great way to drive traffic to your website. By including links to your website in your tweets
Increased leads and sales
Twitter can be used to generate leads and sales for your business. By using targeted advertising and engaging with potential customers.
Twitter Marketing service price (Overview)
Best Twitter Marketing Services In India
In the online world, getting your business noticed on Twitter is like playing a skilled game. At 'Cybertooth India,' we're a bunch of savvy social media experts. We don't just help you show up online, but we also make sure you stay safe and keep growing.
So, if you're keen on marketing your business on Twitter, grab our top-notch Twitter marketing services in India. We'll hook you up with loads of great customers—all from one global platform: Twitter.
Why choose Cybertooth India for
Twitter Marketing Service

?
If you are in search of a digital marketing agency to get Twitter marketing services done then CYBERTOOT INDIA presents the best price-friendly SEO plans for people, but the question is why us? Find the following points as an answer here.
Experience: Cybertooth India has scored over 10 years of experience in this Twitter marketing field.
Team members: Team members at our Twitter marketing team are highly skilled professionals.
For marketing attitude: More than only Twitter marketing experts we are marketers first, "being digital" enables us to use Twitter marketing skills for our website's Twitter marketing activities.
Premium tools: We use premium tools for your marketing, which gives accuracy to work.
For our Twitter marketing goals: Our Twitter marketing goals are focused on people & the world. With the knowledge of Twitter marketing, our experts are contributing a little part to creating this world better.
For our ranking: Everyone needs the best Twitter marketing companies for their businesses, check yourself a keyword for example – Website designing price in India, where we are.
Flexible Twitter marketing packages in India: For Indian businesses, we offer 3 best price Twitter marketing packages after discounts based on people's affordability.
Twitter Paid Marketing vs. Organic Marketing: A Comparison Table
| Feature | Twitter Organic Marketing | Twitter Paid Marketing |
| --- | --- | --- |
| Cost | Free. No direct financial cost. | Paid. Requires budgeting and ad spend. |
| Reach | Reaches primarily your existing followers and their connections. | Potentially reaches a much larger audience, including users who don't follow you. |
| Targeting | Limited targeting capabilities, primarily based on keywords and hashtags. | Allows for precise targeting based on demographics, interests, behaviors, and more. |
| Control | Limited control over how your content is displayed in the timeline. | Granular control over ad content, placement, and timing. |
| Speed | Takes time and effort to build a large and engaged following | Generates results quickly, often within hours or days. |
| Measurement | Limited analytics capabilities, primarily through Twitter Insights | Provides detailed analytics and reporting on ad performance. |
| Sustainability | Organic reach can be sustained through long-term content creation and engagement | Requires ongoing investment to maintain reach |
| Content formats | Primarily text-based, with limited support for other formats. | Supports various formats like images, videos, text, and live streams. |
| Best for | Individuals and businesses looking to build a loyal following, engage in conversations, and share their message organically | Brands and businesses with specific goals, such as driving website traffic, generating leads, or increasing brand awareness. |
How can you manage your own
Twitter marketing

account?
Step 1:
Optimize Your Profile:
Profile Picture and Banner: Use high-quality visuals that represent your brand or personality.
Bio: Briefly describe yourself and your value proposition. Include relevant keywords and website links.
Pinned Tweet: Showcase your best content or important announcement.
Location: Add your location to attract local followers.
Step 2:
Content Strategy:
Define your target audience: Who are you trying to reach with your Tweets?
Identify your goals: What do you want to achieve with Twitter marketing?
Develop a content calendar: Plan your tweets in advance to ensure consistency.
Content types: Mix text, images, videos, and polls to keep your content engaging.
Hashtags: Use relevant hashtags to increase discoverability. Research trending and specific hashtags.
Quality over quantity: Focus on creating valuable and informative content.
Step 3:
Building a Following:
Follow relevant accounts: Connect with influencers, industry leaders, and potential customers.
Engage with others: Reply to comments, retweet interesting content, and participate in conversations.
Run Twitter contests and giveaways: Encourage engagement and attract new followers.
Use Twitter Lists: Create curated lists of users relevant to your interests.
Promote your Twitter account: Add it to your website, email signature, and other social media profiles.
Step 4:
Engagement and Community:
Respond to mentions and messages promptly.
Ask questions and invite discussions.
Show appreciation for your followers.
Host Twitter chats or Q&A sessions.
1. Discovery and Planning
• The agency gets to know the client's business goals, target audience, and budget.
• They conduct a thorough audit of the client's Twitter account.
• They develop a tailored Twitter marketing strategy.
2. Implementation
• The agency creates engaging and relevant Twitter content.
• They schedule tweets in advance to keep the client's feed active.
• They manage engagement by responding to comments and questions.
3. Measurement and Analysis
• The agency tracks the client's progress and campaign.
• Effectiveness using Twitter analytics.
• They provide regular reports to the client outlining the results.
4. Optimization and Refinement
• The agency analyzes the data to identify areas for improvement.
• They make adjustments to the client's Twitter marketing strategy.
• They continuously monitor and refine the strategy to achieve the desired results.