Website designing tips (for Indian domestic businesses)
To get the website exactly as you want, you must spend some time reading the points. Website designing tips to order web designing projects, no matter when – today, tomorrow, or after centuries. Just stay managed.
These website design tips can help-
Getting a website designing project within your budget
No later miscommunication with the web design company
You can fix your work
Fewer chances of missing something
Keep your homepage minimalistic and free of clutter.
Design with visual hierarchy in mind.
Create easy-to-read website content.
Ensure your site is easy to navigate.
Stay mobile-friendly.
In India, generally, people are not aware of websites, however, it's not bad but it's essential to know. Here, traditional ways of marketing are too popular to opt for the new era of digital marketing. in this article, we will try to answer a few curious questions if you are planning your website design (Source Godaddy)
However slowly but gradually digital awareness is going to be a part of the business community in India. Here we start with all the general information.
The motive of these articles is to give you basic awareness so that when you go to the discussion table with your web designer, you can tell them your requirements clearly otherwise your goals may suffer.
Find out what you expect from our website designers. These are the complete plans & website-type categorization
How to explain your plan to "any" or our website designer?
Be clear about what you want on your website.
Make some short notes.
Collect prior information about your competitor's website
Check how they appear on the internet
Decide your budget & and ask a web designer to quote services only
Keep the images ready with you
Keep your company profile written with you
Decide your website's theme color
Request for SOW (Scope of work)
Decide your budget, ask your website designer to quote services within the budget
You know a website designer is a person who can design a website at any cost. It's like I have 2 rupees & I want an airplane then obviously I can get a paper airplane.
Asking for discounts won't work here. The more discounts you ask for, the more the willingness & creativity of web designers impacts, seriously.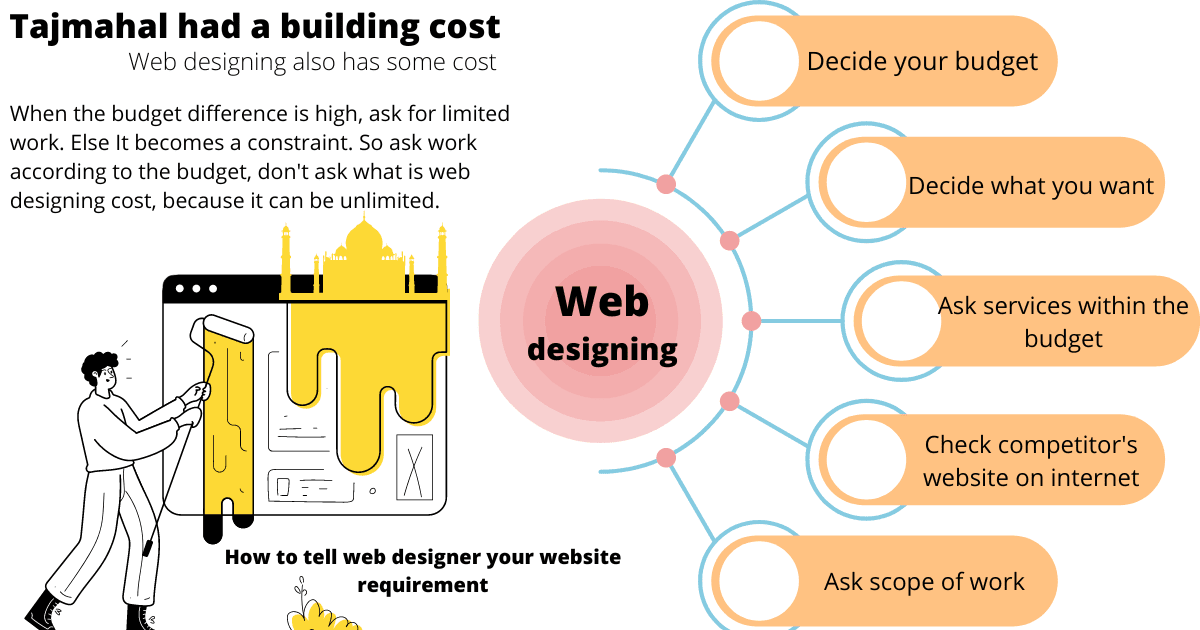 In the second example, the website is an artwork first and later a presentation. If you want a masterpiece of painting, & you can pay in lacs you can get a custom-made painting, a masterpiece.
After you bargain, the artist spends less time creating this masterpiece. The artwork has no measurement, similarly, a website has no fixed cost.
Website design work has no limits, as the work size increases the cost of the website.  If you bargain too much then the quality can get impacted. To be straight at this point, nobody can work for the whole month for Rupees 4000 (example & random amount.)
Every website has different properties and different work. You should not expect your website designers to quote a price without telling them the exact work. website designing projects are always SOW-based.
So if you ask your website designer "What is the cost of a website " then this will not be technically right. As a result, you can't get a website that is exactly in your mind. Some day, the situation may become like I want this & the designer gave me something else.
To prevent this, we suggest always asking SOW first. Once the work site is clear, then the website quote will match it & you will never be in any complicated situation. Nobody works underpriced.
Be clear about what you want on your website.
Being clear on your requirement means you need to tell each & everything to your website designer, like on what designing points you can compromise for the budget.
What are the essential design elements you strictly need for your website, ask your website designer to tell you how they will plan your goal.
Make some short notes.
For this, making a short note is a good idea, if you note your requirement on a page then this becomes easy to explain. This way you save your time & make your website designing process perfect.
Collect prior information about your competitor's website
Collecting prior information about your competitor & discuss this with your web developer is a great idea. If you are making a website to increase your online presence then you have to collect your competitor information too. This will help you plan your website.
Check how they appear on the internet
In a bit deeper research you get to know how competitors make their website? Furthermore, you need to check their search engine & other online presence.
The deeper you research, the more you get to know about them. This will help you to not just analyze their market but the mistakes they did while making a website. If you are not sure then ask your website designer and they can help.
Keep images ready with you
It will help you in getting the fast processing of your project.
Keep your company profile written with you
Most websites, customers & designers suffer because the way customers want to present their business profile is different than when another person wrote this for you. You know your business best & nobody can think like you about it. If you have a pre-written company profile then you will be satisfied.
Decide on your website's theme color
Decide your theme color yourself.
SOW
Don't forget to ask SOW
Footnote
As website designers, we need your information in some systematic way so that we can offer you the best. If you are happy with this information, we would like to know your website design requirements.