Affordable WordPress Services For Small Businesses
Elevate your brand with our comprehensive
WordPress design services

. We help you design your dream website which can showcase your business and elevates your production.
You can learn about wordpress from this video
Types of website we make with WordPress
Basic WordPress Website: A basic WordPress website refers to a simple website created using the WordPress content management system (CMS) with minimal features and functionality.
Custom WordPress Website: A custom WordPress website based on the client's requirements. Are created using WordPress CMS with high level of customization.
E-commerce Website: E-commerce websites are online platforms that allow business and individuals to buy and sell products or services over the Internet.
Advanced Functionality: Advanced functionality on a WordPress website refers to the india of additional features and capabilities beyond the basic blogging and content management functions that come built-in with WordPress.
Hosting and Domain: To create your website, you need two things domain which is the name of your website and hosting which keeps all the files of your website so that you can customize it easily.
Benefits of WordPress Design
Easy To Install And Setup 
Anyone With zero coding understanding will be able to use WordPress, It's an one click installation and easy to set-up.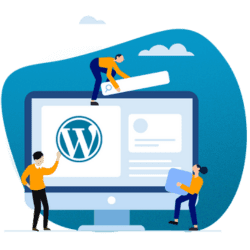 Seo Friendly 
Another WordPress benefit is that it's built and organize with SEO in Mind, That why it is also call as seo friendly site.
Responsive Website Design
With WordPress, they provide responsive website designs and themes built into their platform for you to choose from.
Website Security
 WordPress provides Best security plugins which can be easily managed by anyone, WordPress also come with security measures.
WordPress website development cost in india
Domain name: You will need a domain name to create a website and domain names have different prices. TLD (Top Level Domain) is a little expensive, (second level of domain) is a little cheaper and (Third level domain) is even cheaper. But the cheaper you buy a domain, the worse its quality will become.
No. of pages: No, off pages are another reason that increases the cost of a website. For example, if you want a 10 page website, you will be quoted the website cost accordingly. The more pages you add, the more your costs will increase and the more pages you remove, the less your website will cost.
Custom Code development: In WordPress we can create two types of websites, one with template and the other custom. You just have to change the content in the template website and your website is created and it does not cost much. But if you want to make the website custom, then the developer has to make the website according to you, which takes more time, hence the cost of custom code website is also high cost.
Plugins: The best thing about WordPress is that there are plugins available for everything, but some plugins are premium, if you want to use that plugin then you have to buy the premium version of that plugin, which also increases the cost of your website.
Time spent of graphic: Graphics play the most important role in website designing. If you want high-level graphics on your website, such as vector images the graphic designer will have to do more work and this also increases the cost of your website.
Hosting quality: To create a website, you need a good hosting along with a domain name. There are different types of hosting – like: SSD hosting, normal hosting, HD hosting. Out of these, SSD hosting is the most expensive hosting and HD hosting is the cheapest but if you go the cheapest one then you will face a lot of problems in your website in future. That's why people prefer SSD or normal hosting for their website.