Affordable Twitter Marketing For Small Businesses
If you have a business, it's important to market wherever you can. One of the best places to get noticed by consumers is on social media.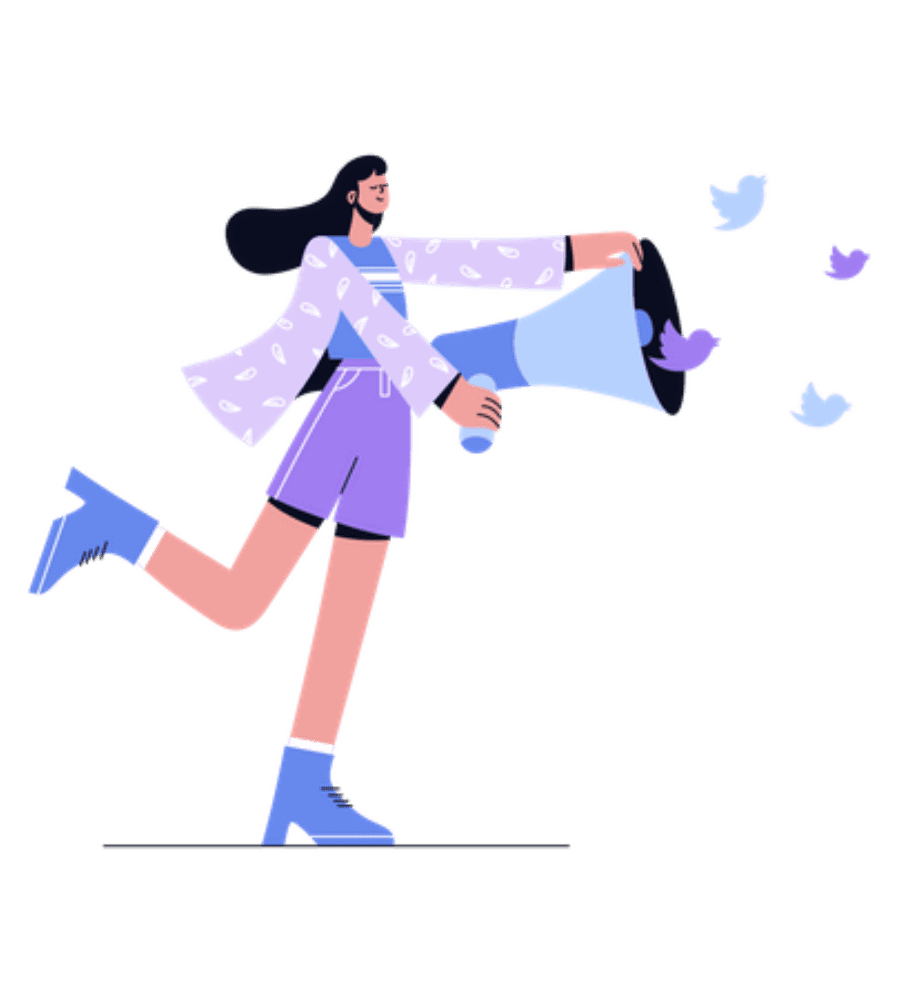 What is

Twitter Marketing
Twitter marketing is the process of promoting your brand and its products or services through Twitter. It involves a well-established social media marketing strategy to create and publish content on the platform.
Benefits of Twitter Marketing
Drive Traffic to your Web page
Twitter marketing helps to drive traffic to your web page, which can help you to increase your sales
Increase purchases
Another benefit of Twitter is that it can influence the purchasing decisions of your audience.
SEO
Twitter is beneficial for brands in the sense that tweets can appear on search results pages on Google. Regularly including SEO keywords in your tweets can substantially increase your ranking on search results, so keep this in mind if you want to widen your audience.
Promotes Your blog content 
If you have blogs you can think about posting your blog in twitter
Twitter Marketing Package
Small Business
✔️ Profile Creation
✔️ Background Picture Creation
✔️ Tweet – 2 Per Week
✔️ Cover Pic Creation
✔️ Hashtag Research
✖️ Active In Trending Hashtag
✖️ Creation Of List
✖️ Creation Of Poll
✖️ Following Industry Related People
✖️Twitter Analytics Monitoring
✖️ Creation Of Moments

Twitter Ads Management

✔️ Twitter Ads Set Up – 1
✔️ Ad Set – 1
✔️ Ads – 1
✔️Tweet Engagement Ads
✖️ Video Or GIF View Ads
✖️ Awareness Ads
✖️ Website Conversion Ads
✖️ In stream Video View Ads
✖️ Follower Ads
✖️ App Insatll Ads
✖️ App Reengament
✔️ Audience Creation
✔️ Monthly Report
Mid Size Business
✔️ Profile Creation
✔️ Background Picture Creation
✔️ Tweet – 2 Per Week
✔️ Cover Pic Creation
✔️ Hashtag Research
✔️Active In Trending Hashtag
✖️Creation Of List
✔️reation Of Poll
✔️Following Industry Related People
✔️Twitter Analytics Monitoring
✖️ Creation Of Moments

Twitter Ads Management

✔️ Twitter Ads Set Up – 1
✔️ Ad Set – 1
✔️ Ads – 1
✔️Tweet Engagement Ads
✖️Video Or GIF View Ads
✔️Awareness Ads
✖️Website Conversion Ads
✖️In stream Video View Ads
✔️ Follower Ads
✖️App Insatll Ads
✖️ App Reengament
✔️ Audience Creation
✔️ Monthly Report
ECommerce Business
✔️ Profile Creation
✔️ Background Picture Creation
✔️ Tweet – 2 Per Week
✔️ Cover Pic Creation
✔️ Hashtag Research
✔️Active In Trending Hashtag
✔️Creation Of List
✔️reation Of Poll
✔️Following Industry Related People
✔️Twitter Analytics Monitoring
✔️ Creation Of Moments

Twitter Ads Management

✔️ Twitter Ads Set Up – 1
✔️ Ad Set – 1
✔️ Ads – 1
✔️Tweet Engagement Ads
✔️Video Or GIF View Ads
✔️Awareness Ads
✔️Website Conversion Ads
✔️In stream Video View Ads
✔️ Follower Ads
✔️App Insatll Ads
✔️ App Reengament
✔️ Audience Creation
✔️ Monthly Report